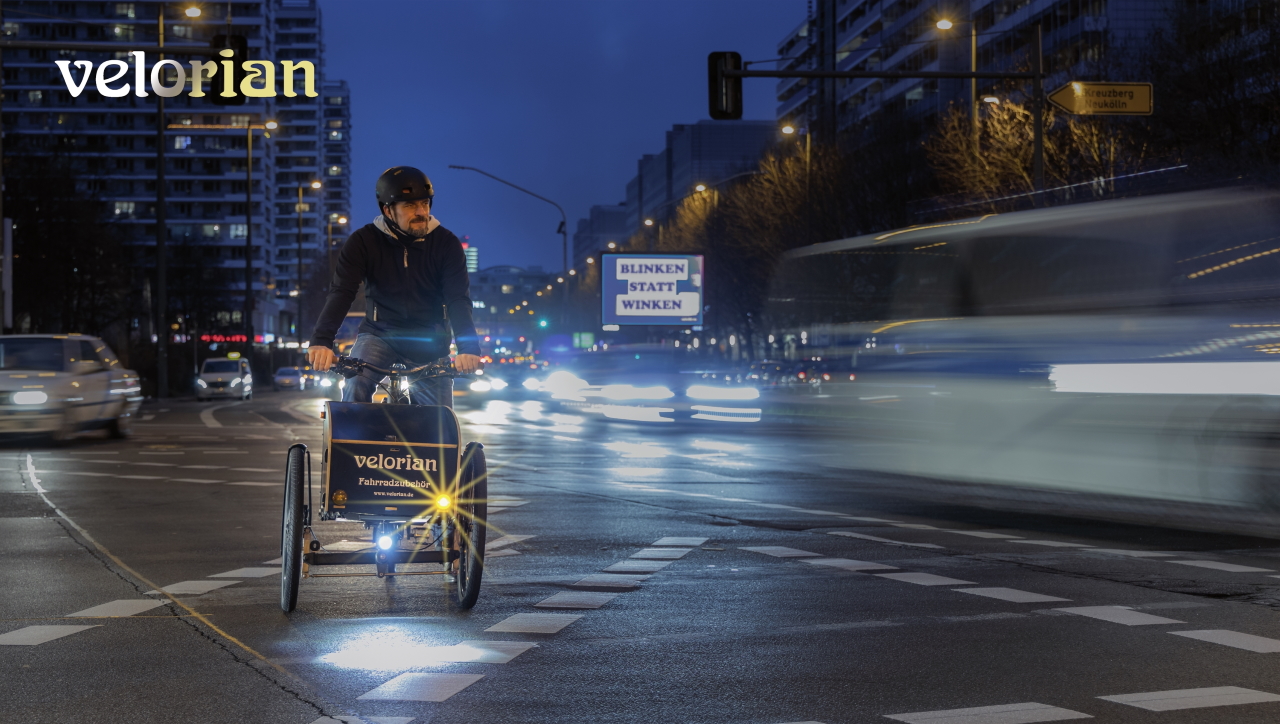 22.02.2020

A rapidly increasing number of powerful and fast bicycles with a bicycle infrastructure that is growing too slowly is also increasing the need for more visibility among cyclists. More and more motorists are switching to the bike to save money and the environment while doing something for their health. Some of them stand in the left-turn lane as usual when turning off and miss the indicator on their bike.

How an innovative turn signal system increases safety on the bike is demonstrated by velorian GmbH with its system for e-cargo bikes and e-bikes at Cyclingworld in Düsseldorf, the E - BIKE Festival in Dortmund, VELOBerlin and the E-Bike Days in Munich this spring. At the same time as Cyclingworld, a crowdfunding campaign for the e-bike turn signals will start at www.kickstarter.com at the end of March, where the system can be purchased at the market launch price.

Thanks to the clever combination of mini LED indicators and newly developed control electronics, which can be adapted to all requirements under software control, the indicators on many wheels not only look good, but also meet the current requirements of the German Road Traffic Licensing Regulations for indicators on two-wheelers, multi-lane bicycles and the EMC guidelines for e-bikes.

Although the StVZO does not yet permit the technical approval of turn signals on single-track bicycles, the use of bicycle turn signals is not prohibited according to STVO §9. How the turning by the cyclist should be indicated is not specified there.



velorian GmbH
Storkower Str. 115a
10407 Berlin
Germany


mail: contact@velorian.de
fon: +49 (0)30 3643 1679
fax: +49 (0)30 3643 3905

Contact Person: Eckehard Bahr
mobil: +49 (0)152 260 156 74


velorian GmbH was founded in Berlin in 2019.

velorian develops and distributes innovative bicycle accessories.

These include turn signal solutions for all types of bicycles, cargo bikes and recumbent bicycles.