velorian bicycle turn indicators:

ride with more safety
Road traffic is becoming increasingly dense and challenging. Especially in the dark, the danger of not being seen is high. Fear and insecurity can arise from this, and the joy of cycling is gone. But cycling is the best way to get around the city and is good for all of us.

I have known this for years from the increasingly dense Berlin city traffic. Although I think I'm an experienced cyclist, I have also had my moments of fear. For a long time, I have been looking for ways to improve my visibility in traffic. I have tried almost everything on the market and have become more and more convinced that what is missing the most are proper turn signals on the bike. Indicators that I don't have to worry about every day and that work as reliably as on a car or motorcycle.
That's why I founded velorian to develop the turn signals I have always wanted for myself. As a graduate engineer, my goal was to develop reliable indicators for everyday cycling that conform to the relevant regulations. For this purpose, I found who I believe to be the best development partners.


Sponsored by the state of Berlin, and after more than 3 years of daily testing in Berlin road traffic, and many improvements, I was able to show my indicators in 2019; at the big bike shows VELOBerlin, VELOHamburg and VELOFrankfurt.

Imagine...
how your bike will attract the attention of others when you are indicating your turn like a car or motorbike at an intersection.
how you will ride safely into corners without taking your hand off the handlebar.
how relaxed cycling with indicators on your bike will be.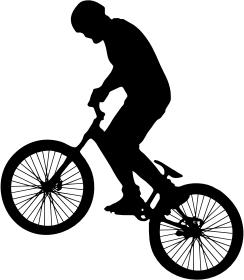 velorian will present the different bicycle turn signals at many fairs in 2020.


✪ The Cyclingworld On 21 and 22 March 2020 in Düsseldorf is canceled for the time being. ✪
✪ From 26 - 28 Juni 2020 at the E-BIKE Festival in Dortmund. ✪
✪ The VELOBerlin from 18 to 19 April 2020 is canceled for the time being. ✪
✪ The International Cargo Bike Festival from 24 - 26 April in Nijmegen is canceled for the time being. ✪
✪ From 10 - 12 July during the E BIKE DAYS in Munich. ✪
✪ From 15 - 16 August 2020 at the Spezi in Germersheim. ✪

The electronics were the first challenge, the next was the question of how to attach them to the wheel in a visually appealing and stable way. Which turn signals are small and can fit on a bike? The whole thing should look cool or chic or simply good. I invested a lot of time in answering these questions, and so velorian offers a variety of indicators and brackets. Anyone who travels a lot by bike and uses mobile phone navigation or other navigation devices will know the problem of a low battery. The final generation of velorian turn signals will provide a USB charging port.

FAQ
General Questions
Am I allowed to mount a turn indicator on my bicycle?
Please refer your local regulations.
Should I give a hand signal even with working turn indicators on my bike?
Turn indicators on a bicyle are not common yet. Therefore show your turn in the usual way first and don't rely on attention of other people.
Who'll mounting the turn indicator system on my bike?
The installation needs no special skills, only some special tools like tongs for the cable. You can do it yourself, or your local dealer can take care of it for you.
How many turn indicator designs are available?
Generally all 12V LED indicators are for motorcycles. We select especially small models and check their power consumption. A valid approval, a successful design, low power consumption and good brightness are our criteria. And of course, we test all our models.
How will the turn indicators be mounted on my bike?
There are 2 kinds of brackets at the moment. At the brake handle as shown ( brakes with bowden cable) and at the rack. We are developing more brackets currently.
Where can I buy the velorian turn indicator system for bikes without battery?
Not yet (08/2019). In spring 2020 we will start a crowdfunding campaign, the first products could be delivered in autumn 2020. Subscribe to the newsletter to get info in time and get a turn indicator system with a price advantage.
questions to velorian turn indicator system
Does charging the battery consume a lot of power? Does this cause brightness to be lost on the headlight?
No to both of those things.
Do I have to stop flashing manually?
While the flashing can be stopped manually, it will automatically stop after 120 seconds.
What kind of bikes can the system be mounted onto?
Basically, the velorian turn indicator systems can be mounted onto any bicycle. There are no brackets for all kinds of bicycles yet, but we are developing more brackets currently.
How long does the battery last?
Fully charged, depending on usage, it lasts up to 4 weeks or more. Connected to the hub dynamo, depending on usage, the battery should be fully charged at all times.
Is the battery replaceable?
Of course. The battery has a standard format and can be bought from any electronics dealer.